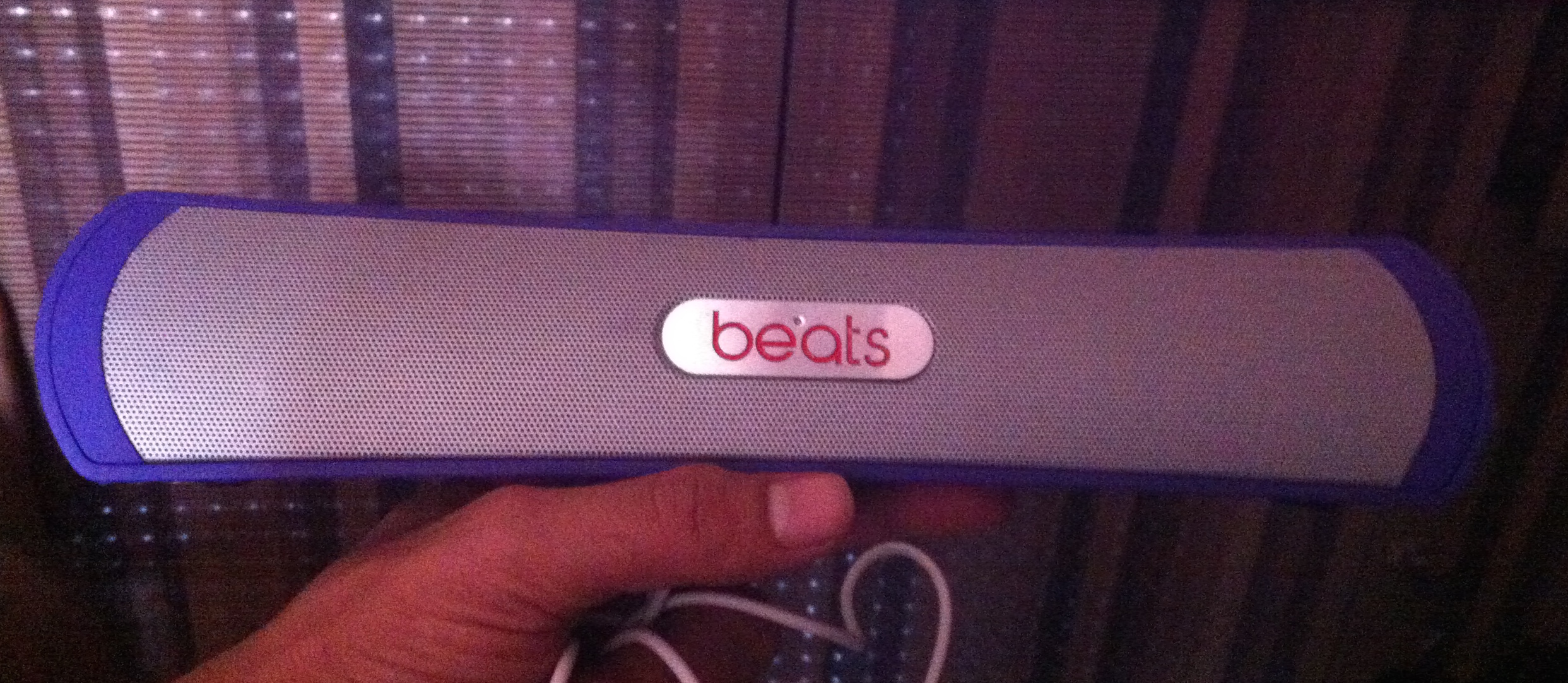 Chinese Beats BE-13 Bluetooth Speaker Review
from Geek Snipper on Vimeo.
I just came across this replica of the Beats Bluetooth Speaker. This not the original Beats, but a Chinese product. This Bluetooth Mini Speaker is a high performing with low frequency dynamics. You can play music with TF card, audio input, and also through PC's and Laptop. This Bluetooth speaker is really cheap. It cost me around INR: 1,400 (Hike in price with a better upgraded version) i.e. USD $9 (discontinued).
Specification:
| | |
| --- | --- |
| Bluetooth | 2.1 +ERS |
| Transmission Distance | 10 meters |
| Output | 3W |
| Frequency | 100Hz – 18, 000Hz |
| Speaker | 4 Ohms |
| Input Power | DC 5v |
Features:
Bluetooth Connectivity
Memory function. Resume playback
Inbuilt titanium battery
High Frequency Speakers (It make the sound more natural)
Supports 3.5mm headphone jack
Built-in microphone
Phone calling support
Design & Feature (5/10)
They have made it very simple. This Bluetooth Speaker measures a width of 10.39mm and 2.16mm in height respectively. It has a smooth texture and is easy to use. You can play mp3 with the following 3 connectivity options:
DC 5V/USB
TF
Aux (3.5 mm jack)
This wireless speaker can run for 4-5 hours. When the battery get's low you will realize it by its decrease in the volume. The only thing that I didn't like was, the material quality it is built with. The material used to build this speaker is quite cheap. But, on the context of the price range it's affordable and worth buying.
Sound: (7.5/10)
Talking about speakers, Sound is what people are looking for. This Bluetooth Wireless Speaker is good in sound. When you increase the volume full up, you start getting a disturbing sound and it is because of the Chinese quality speaker in it.

The speaker installed is of a cheap quality, but it really gives you a good output. One of the glitch that cannot be ignored is the speaker being with high treble. But, looking at the overall quality, material, sound and price, I would personally say yes to this.
How To Operate?
I thing you would like to know is, operating this. Here is the total guide that will help you to know operate this Chinese Bluetooth Speaker.
To Switch It On and Off: Long press on the power button for few seconds to boot up and shutdown.
Play and Pause: Single press on the power button to play or pause the music.
Next And Previous: Single press on the ">>" button for next and "<<" for previous song.
Volume Up And Down: Long press the "+" button to increase the volume and long press the "-" to get the volume down.
How To Pair With The Bluetooth Device:
Definitely you will want to connect the device with your gadget to listen to the songs loud. To do that Just follow the two simple steps:
Turn on the Chinese Beats BE-13 Bluetooth Speakers.
Being Default mode to Bluetooth, you just have to turn on the Bluetooth in your phone and connect it to the device.
Now you are good to go with this amazing Bluetooth Speakers. If you have liked the product or want to know more about it, feel free to ask us.
More better options to buy